Registration
Here you can find all of the information needed to register a patient in the BSRBR-RA.
The process is summarised in this flowchart
Baseline information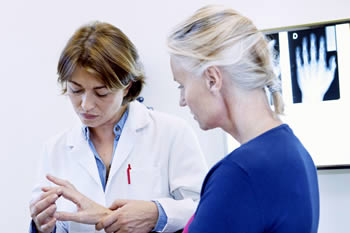 Clinical baseline documents are required for each new patient registered in the BSRBR-RA.
Please ensure you consult the eligibility checker (PDF, 99KB) to confirm that the patient is eligible for the BSRBR-RA before recruiting them.
Once you have completed all of the registration documents (as listed on our Enrolling a Participant Checklist) please post them to the BSRBR-RA offices.
We will then register the patient and inform you of when their next follow-up is due.
We will also send out a patient baseline form directly to the patient with their first six monthly diary.

Forms for registering patients new to the BSRBR-RA on biologic or biosimilar therapy

Forms for re-registering/switching patients on biologic or biosimilar therapy who are already participating in the BSRBR-RA
If your patient is already on the Register, they may be eligible to be re-registered with the BSRBR-RA.
To re-register patients, we need their current BSRBR-RA ID, HAQ and EQ-5D plus a copy of the signed consent form.
Full details on this, and all other aspects of re-registering patients can be found in the BSRBR-RA Re-registration Guide.
Please click on the links below to access re-registration forms for patients who have been registered to the BSRBR-RA before:
We would recommend that the re-registration paperwork is submitted to the study offices as soon as possible, and ideally within two years of the switch. Re-registrations will continue to be accepted after this point as long as there are no gaps in data.